About as far removed as you can get from the dairy farming world of Eastern Connecticut is the wine industry of Napa Valley California. By comparison they are the same and vastly different and I enjoyed looking at this very successful agricultural enterprise from the agriculturalists point of view.
They may be different but a beautiful view is valuable wherever you are. Here from the hilltop at Chanticleer Wine at Morningside Vineyards the view of grape vineyards and mountains is just about perfect! http://www.chanticleerwine.com/
The rolling eastern Connecticut landscape as viewed from Mountain Dairy in Mansfield CT www.mountaindairy.com after a fall harvest and before the color show of autumn begins, the hills roll away, wind sweeps in over those 50 miles of hills and valleys to buffet the farm , welcome in summer, ghastly in winter.
Either vantage point can be breathtaking and both can be windy and weather swept, although CT. suffers the onslaught of snows and winter wind chill factors.
definite disadvantage!
If this was a scoring event then score one for Napa!
The product of both are liquid but the milk being perishable makes a need for a close market. Wine definitely takes the advantage in its increased value by age. Packaging systems are similar and the bottling mechanism similar to that of milk.

Empty bottles are lined up for a ring toss game at the recent Grgich Vineyard picnic. http://www.grgich.com/
Bottles are loaded into refrigerated trucks for delivery of milk, with a short shelf life getting milk off the farm and to consumers quickly is essential.
There are systems in place in both agricultural areas to value quality and reward it.
There are similarities in the holding tanks where I found a common brand employed.
Some of the tanks at St. Supery Winery http://www.stsupery.com/ Here our guide, Joseph took us through the process from picking to tasting, step by step. There is science and chemistry, farming and the whim of Mother Nature in each crop and bottle produced
.
Mother Nature impacts the dairy equally with good years and bad, sunshine and rain in abundance or the dry panic of drought.
Each has the value of long standing family tradition behind their product and property. Here in historic photo the vineyards of V.Sattui Winery are maintained. http://www.vsattui.com/
Historically the tradition of establishment and passing on to the next generation continues as each producer becomes a bookmark in the family story of agricultural production. Stewards of their land hold the promise for future generations.
Every generation knows the importance of the soil whether your product is Wine or Milk!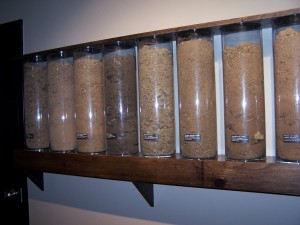 Soil Types of the St. Supery Winery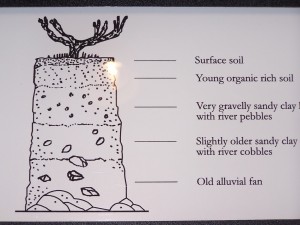 Dairy has the advantage in no long term storage need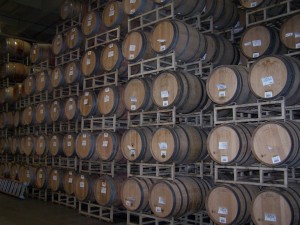 Vines at Fleury Winery
http://fleurywinery.ewinerysolutions.com//index.cfm
Nothing speaks to the longevity as watching the next generation.
Here a young member of the Grgich Winery crew welcomes my Granddaughter who is a member of the 11th generation Stearns from Mansfield CT. She does not live on the dairy, but she can tell you about Grandpa's Cows! ( others of her generation are on farm)
Another blog from my Napa visit:
https://www.carolynstearnsstoryteller.com/bunny-visits-v-sattui-winery-napa-california/