Congratulation to Bill Harley on his Grammy Nomination,
Today is the day! Drum Roll Please……..
Let's look at the category :
77. Best Spoken Word Album For Children
1.) Anne Frank: The Diary Of A Young Girl: The Definitive Edition Selma Blair
[Random House Audio/Listening Library].
2.) The Best Candy In The Whole World Bill Harley


[Round River Records].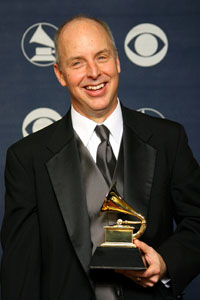 Bill when he won a previous Grammy
3.) Healthy Food For Thought: Good Enough To Eat(Various Artists)
Jim Cravero, Paula Lizzi, Kevin Mackie & Steve Pullara, producers
[East Coast Recording Company]
.4.) Julie Andrews' Collection Of Poems, Songs, And Lullabies Julie Andrews & Emma Walton Hamilton
[Hachette Audio].
Nanny McPhee Returns Emma Thompson
[Macmillan Audio With Universal Studios].