Second post in the series "What's the Story here?"
Making, baking, ovens, history and more good bread! I love the story "The Smell of Bread" a Russian folk tale in the collection by Yury Kazakov (1965).
This blog was inspired by watching bread baker Dave Emigh at Mansfield General Store on Saturday July 16, 2011. www.MANSFIELDGENERALSTORE.com He set up his portable bakery in the parking lot and went to work using an incredible oven the Le Panyol.
A crowd quickly gathered to see the oven
Making Bread and Pizza in a Wood Fired Oven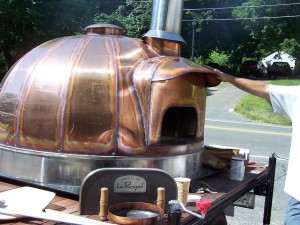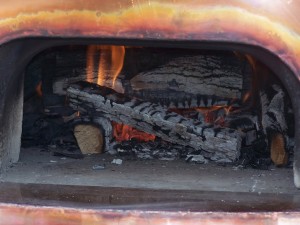 Watch a video short with Dave Emigh, Bread Baker
Bead Baking Resources
www.artisan-baking.com
Ovens – colonial:
1780-81 Lebanon, CT. played host to the French army during the winter. They had arrived with General Rochambeau to aide the rebellion which resulted in the birth of our nation. But…not without bread. Encamped at Lebanon the soldiers built ovens to have the comfort of good bread.
read more about French Bread Ovens and see an illustration at this link:
http://superiorclay.com/oven/article-breadbuilders.phpout
To read more about the French troops and see a relic of a camp this link will take you there:
www.skyweb.net/~channy/Roch.html
For a really fun website on pizza/bread ovens visit: www.traditionaloven.com
For more information on the copper topped oven demonstrated by Dave Emigh at Mansfield General Store look to this website: www.lepanyol.com it uses the special clay Dave told me about, Terre Blanche quarried in Larnage, France. Other Le Panyol ovens are in use at King Arthur Flour, Norwich VT. and Stone Turtle in Maine www.stoneturtlebaking.com