How exciting to see a post and link to a story about my favorite place in the world. Star Island, is part of a cluster of islands known as the Isle of Shoals. It is just off the coast of New Hampshire and Maine, it is a place of such simple beauty and peace. A Facebook post alerted me to an article see the link here.
http://www.bostonglobe.com/lifestyle/travel/2012/06/16/new-hampshire-isles-shoals-spend-night-oceanic-hotel/at0xDwQTNeDV18GcqldJWK/story.html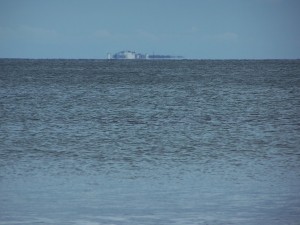 Brigadoon like mist over Star Island as viewed from New Hampshire shore
I plan to look for 2 days we can escape to Star Island for a personal retreat. My luggage will have binoculars and spotting scope, bird books, fishing gear, musical instruments, sketch pad, journal for writing, photography gear, a kite, swim suit and – oh I'll need more days!!! I'm ready to go right now!
Star Island Slide Show far better than my photo!!
http://starisland.org/media/slideshow/

Here is their Facebook link: https://www.facebook.com/mobileprotection#!/StarIslandCorp
Contact Star Island
Phone: (603) 430-6272
Fax: (603) 430-6270
Island Phone: (603) 601-0832
Staff Email Address List
Star Island Corporation
Morton-Benedict House
30 Middle Street
Portsmouth, NH 03801
Get directions to the office
Content © 1999–2012 Star Island Corporation. Clouds photo © Axel Rouvin.
Other photos © their respective owners.