I was visiting North Carolina and did a couple of mornings of storytelling at my granddaughters pre-school. It is entirely my pleasure to bring storytelling to these little listeners many hearing live storytelling for the very first time. It marked the beginning of a new story…
I posted the picture on my Facebook page and received a message from storyteller Willa Brigham www.willabrigham.com telling me about a festival coming up in the town of Garner, NC. It was decided I would take my granddaughter to the festival and introduce her fully to Grandma's world of story.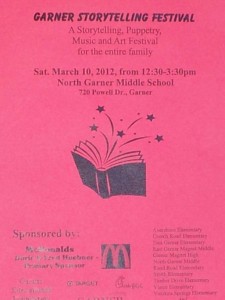 Garner Storytelling Festival is a magical mix of professionals and school children sharing a stage and their stories, along with music, poetry and puppetry. Eleven schools and 2 library systems were involved so the energy level was high. This was the festivals ninth year and you could tell as it worked like a well oiled machine, seamlessly moving from the opening performance to the breakout sessions.
As student storytellers took their turn a professional stood there to welcome them to the stage and thank them after their story. The stories shared by the youngsters were gathered from books or original and all crafted well and shared with poise and professionalism far beyond their years. It is a great piece of work to prepare and train these young stars to shine in that moment, I was more than impressed! Faces were beaming as students walked back to seats after sharing their story, success and those moments in the lights certainly left a glow on each child.
Professionals at the festival this year were; Timmy and Susana Abell, the featured artists. ( please return or follow me for the next installment, in a few days a review of a CD, Stories to Grow On ; by Timmy Abell). Sharing the stage Willa Brigham, Emmy Award winning host of the PBS television show Smart Start Kids, John Golden a storyteller of North Carolina's rich history and Cyndi Bailey Morgan a teller of Jack Tales and International folk stories.
Behind the scenes there must have been some long hours securing the long list of supporters, coordinating the schools, developing literacy links to curriculum, juggling schedules, contracts, materials, site organization, and registrations. We all know about the silent work of many and I am sure there is a great team behind this great day of story. I know I was warmly greeted and welcomed and felt at home in this gem of Wake County libraries www.wakegov.com/libraries and educational institutions. Bravo for a job well done and stories to dream on for a long time to come!
prior blogs from the North Carolina trip:
https://www.carolynstearnsstoryteller.com/duke-university-garden-magic-in-the-making-pt-1/
http://carolynstearnsstoryteller.blogspot.com/2012/03/duke-gardens-magic-pt-2.html
http://carolynstearnsstoryteller.blogspot.com/2012/03/museum-of-life-and-science-durham-nc.html