Uncredible Thoughts; a Book by John Marszalkowski
An old typewriter graces the cover of Uncredible Thoughts, an interesting read. On the paper in the typewriter depicted are the words "Essays, Spiels, and Poppycock." That alone would draw my attention but the incongruous roll of toilet paper hints to the humor within, I began to read.
The nice thing about a collection of essays is it fits into this world's busy pace, yet you feel accomplished as you finished something. Reading an entire essay before work and world called me was a pleasure. I was given something fresh to think about and the time allotted to the read was enough for my morning coffee. Perfect!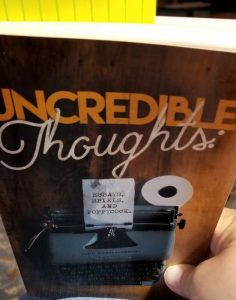 Among the collection is an essay titled "Thou Shall Not Covet", this one ran parallel in my mind to the movie Christmas Story and the boys desire for a Red Rider BB gun. Dry humor and the stark reality of childhood chores smack the brain to jar loose memories from similar instances. I was left wishing all kids could struggle to earn. Could this essay be an answer to entitlement?
Everyone must have at least one skunk story. John does, and lucky for us he includes it here. This one will certainly trigger memories of a stinky situation in your life. Some days life just stinks, some days you need tomato to get rid of the stink. Better to read about John's skunk and not endure the offense to your nose!
Twenty essays, spiels and collective poppycock make for a pleasurable read and some food for thought. There are moments of laughter and introspection. For those who avoid a morning workout at all cost, here you can get that sense of accomplishment for finishing something first thing in the morning. Now it's your turn, read John's book and be accomplished with me!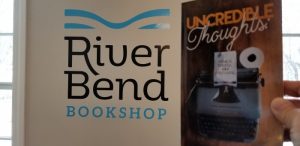 I found John Marszalkowski on Twitter at @JohnnyMarsz He directed me to his 2019 published book which was shipped to a local #indiebookstore because John appreciates the small book seller and the opportunity writers have in small personal service offered by a local bookstore. The book was my excuse to visit River Bend Books in Glastonbury CT. I've been twice now as it is the cozy, cram full bookstore with personal touches any reader would love.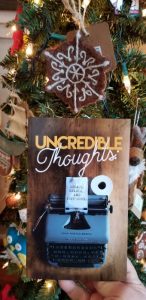 You can order a copy of Uncredible Thoughts from easy links on John's website www.thisisareal.company Your order will be a gift to John because writer's want to be read. You might just make it in time as a gift for the season if you order now.
Another review of a book I've written: https://www.carolynstearnsstoryteller.com/focused-on-family-stories-riding-for-uncle-samuel