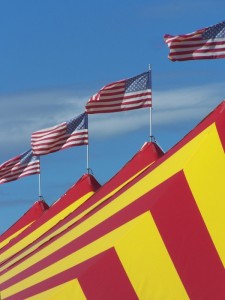 Children grow up! One minute you are wrapped up in a whirlwind life filled with kids. The next minute you sit back and watch other people working with their kids, and it's too quiet.
         No time of year makes me realize that more, than fair season. We were one of those families who brought the exhibits. We slept in tents and barns to safeguard animals. We filled our car with canning, crafts, flowers, cooking, animal care products and sometimes remembered our spare set of clothes. We were the family that was up early enough  to bathe a cow and get her to the ring dazzling white led by a child dressed in clean white clothes.
I was the one to build a plywood, pig proof truck cap in a day. For help I had a toddler and 3 infants. The pigs had to go to the fair and we didn't have a ride. It was the last fair of the season, The Big E, the New England State Fair. I even built a ramp with sides to load them in the pick- up. Some of the men at the fair gave my plywood cap funny looks, I wonder what they could build with 4 kids under 4 with them? ( my son, two nephews and a niece) By the time my daughter came out of the ring with her ribbons, and a huge smile, I knew it was worth it.
They have all grown up. Fairs are anti-climatic now. I don't feel the frenzy of preparation and that has taken some of the fun. I often announce at fairs, I stay calm when things don't go as planned, I've seen it all! From my spot in the shade, announcing the entries in classes I see the families. In the ring the giant smiles of freshly washed children and out side the ring a tired parent, so proud of that child for handling their project animal. I wish I could turn back the hands of time.
Well maybe not…. some years it took a week to empty the car after the last fair. Four years I had a newborn to tote along to the fair, what was I thinking! Many years we did fairs 3-4 weekends in a row. Some years we huddled in the barns in coats it was so cold. Other times we got sunburned, worse yet, a rainy fair, soaking wet for 3 days.
Behind those blue and red ribbons there are hours upon hours of work in preparation. Before the fair their is so much paperwork! Minutes before leaving the last baking entry comes out of the oven and you hope it wins. Fair time is waiting for the last child to get in the car, while they watch a chicken in the nest. We need one more egg in the carton to enter. Fair time means mounting a photo en-route to the fairgrounds, because the roll you just developed always has the best shot of the year on it! If it is fair season it means the pantry already had 5 kinds of jam in it, because there is a class for best collection of jams. Fair time means your kids do homework on Thursday in a pig pen because we just got to the fair.
I am going to the first 2 fairs of the season for me this weekend. I am not taking any kids, animals, cooking, eggs or photos. What am I supposed to do with all that empty space in my car? Saturday I will be performing as a storyteller at Tolland County 4-H Fair in Vernon, CT. That was a second home to all my children! I tell stories there every year, because I haven't missed one since 1978! I need to tell the stories of previous fairs, along with my usual repertoire. These are family stories and every one of them is a Blue Ribbon winner! Sunday I'll be announcing over at The Lebanon Country Fair, for a Donkey Demonstration. Well it all sounds so clean and easy, I think I'll have a good time, watching all the families!