I was flying south this week and marveled at the incredible cloud formations . Leaving a snow and ice filled Connecticut I flew to Detroit over an ocean of rolling sea like clouds. Great furrows and ripples small, decorated the sky below our wing. Some clouds were of cotton candy consistency and others looked heavy with pending storm moisture. They all reminded me of stories with clouds like Jack in the Beanstalk. This was certainly the world Jack mounted his beanstalk to find.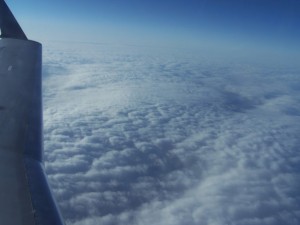 There is Dorothy's clouded sky that brought on the tornado that whisked her to Oz. Some of these clouds hid that menacing force beneath that billowing pretense of peace.
This river view reminded me of a segment of Around the World in 80 Days,the Jules Verne classic. I recently read a passage with a young man who loved the vocabulary and the time difference. We talked about all the things you might see traveling around the world.
As we got south of the huge storm that gripped most of the nation I was entranced by natures order in the cloud formation out my window. This is the furrows and seedlings of greater things to come. It is the very beginning and the clouds planted will travel on and who knows what they will drop. New England will probably get snow from this garden where North Carolina will get a spring rain.
Planting seeds of story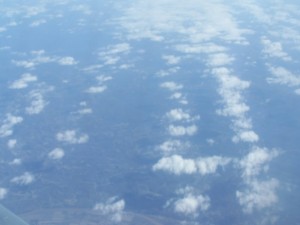 Now my thoughts turn to music of clouds and first to come up from musical memory is the Judy Garland classic, "Somewhere Over the Rainbow". Not particularly a cloud song it certainly celebrates the survival of the tornado in The Wizard of Oz and the magic and promise of a rainbow in the sky.
My second song is the 1970 Joni Mitchell hit, "Both Sides Now". This was one of the first pop songs I learned to sing. I thought of the words to this song several times on my flight this week. "…I've looked at clouds from both sides now, from up and down and still some how, it's cloud illusions I recall…I really don't know clouds at all".