Another Weather Vane Depicting a Morgan Horse
Ethan Allen famed son of Black Hawk
(Weather Vanes Pt.1 Highlighted the Black Hawk weather vane)
another blog highlights that bloodline of these horses today:
See them in action the direct descendants of Ethan Allen and Black Hawk
The Canada Goose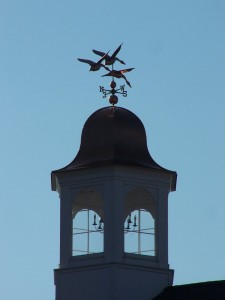 Migration, Nesting and Everything to know about the Canada Goose:
www.lovecanadageese.com/index.html
A Major Resource for all birders is Cornell Lab of Ornithology:
www.allaboutbirds.org/guide/Canada_Goose/lifestory
A Wonderful Movie depicts much of the story from hatching to migration:
Fly Away Home available from www.amazon.com

Snoopy and The Red Baron was the first thing to come to my mind as I saw this flying over a barn roof.
Amelia Earhart a great story for telling in this material:
more info on her life and historic flights at : www.ameliaearhartmuseum.org
Plane Spotters:
When fear of invasion rocked the country during WWII blackout curtains and security measures were instituted. One was a league of plane spotters set up all along our coast lines, sitting long hours alone in towers and glass cupolas watching the skies with charts of aircraft type around them.
Bob Grigg writes articles for the Colebrook Historical Society. There are 450+ articles on their site, a researchers goldmine! Here is the link to his article highlighting plane spotting in their town:
www.colebrookhistoricalsociety.org/Bob%20Grigg%20-%20History%20Bytes.htm
Mansfield (CT) had plane spotters as well, they kept look out from the glass cupola on the town hall which is now home to the Mansfield Historical Society.
Everyone could be part of the National Civil Defense as playing cards were decorated with plane types so they would be common and the general public could inform what type plane was flying over.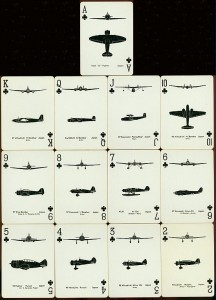 This image of playing cards with Japanese Aircraft is from www.ameshistoricalsociety.org please visit their site to see more info and pictures on Plane Spotters.
Weather Vane Series #1 is available at:
www.carolynstearnsstoryteller.blogspot.com/2011/11/weather-vanes-series-point-to-stories.html