Are you afraid to walk in the dark, dark.
When something goes bump in the night do you shiver?
Does a wolf howl raise your heart rate?
Do you love a campfire and story?                                                  I've got a story for you!
In fact, I have Thirteen Spooky Stories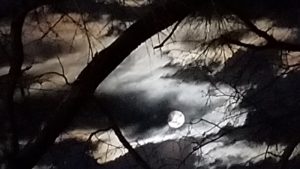 It may be 90 degrees, but my mind is on September and October when the crisp air invites us to gather for spooky stories by a crackling fire! I am anticipating the launch of my next book, a collection of stories sure to make you ponder what or who goes BUMP in the night!
Follow me on social media or join my quarterly newsletter email list to keep up to date on the release of my next book. Drop a comment if you need info on the email list or booking a fall spooky program.
Email, mothermoo2001@yahoo.com