The inspiration for a family story may come from a simple object. It need not be an antique, it could be an everyday item that inspires a favorite family tale. One such item for me is a little teapot. I received this as a teen from my mother, she got it from her mother. The teapot had a few owners before that and part of my story was passed along with the pot. Look around your home or office, you will see items who immediately make you recall and event, the giver of the gift, an incident or other thought. Here is the seed for a story!
Sit and look at the item for awhile and see what memories it brings forward. Just thinking about it for awhile will help. If there are other family members ask what memories the item stirs for them. Write down some of the facts you know about the item.
My teapot is old, there was a note inside with a few details on it. More would have to be uncovered but the basis for my story was there. I took the teapot in my hands and turned it carefully around. There was a makers stamp on the bottom. Time for my detective work to begin.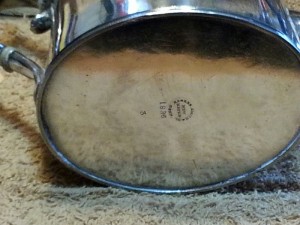 The zoom on my phone camera helped me read the tiny print; "Rogers and Smith New Haven  CT. 1836     3"
My Google search led me to sales of other items from this silver maker. I also found an encyclopedia of silver marks – BINGO!
http://www.925-1000.com/silverplate_R2.html
I found the mark on my teapot in the right hand column with the words New Haven in the middle. The company was bought and merged multiple times so there is a history of marks. They marked silver with this stamp from 1862-1867. I surmise the 1836 is a year of the style or a style number.
Sterling Flatware Fashions site had another image and reference information on the little teapots stamp
http://www.sterlingflatwarefashions.com/SPMfgs/SPR2.html
Now I know the little teapot began its journey in New Haven, Connecticut. Knowing that the teapot later belonged to Great Aunt Eunice, before my Grandmother, I then knew the teapot would travel and come full circle to its home once again. I am liking this story already even though it is still in its infancy. Sometimes I share what I am finding with a willing listener, sometimes no one is around and I just have to hold all the pieces and turn them in my mind. Both ways work well for me, but as a performance storyteller I do enjoy sharing the growth of a story.
Inside the teapot is the little note card. It says that Uncle John Lytle went from his home in Cazenovia, New York to Chicago to find work. There just after the Great Chicago Fire (1871) he was digging sewer ditches on  Washington Avenue (Washington St. ?) He was of the belief that the teapot had been lost during the fire as people fled the blaze with belongings.  Read more about the October 8-10, 1871 Chicago Fire here:
http://www.chicagohs.org/history/fire.html 
Now I had another piece of the story. The evacuation of Chicago was a panic, 300 lost their lives, 100,000 were left homeless!
So who is this Uncle John and how am I related was my next question. The route of teapot ownership is gone so I had to do some research here as well. I  knew the connection was through my maternal Grandmother so I went to that page I have been assembling in Ancestry.com, but there wasn't a link to the Lytle family.  I asked my older brother, but he didn't know. I then connected with a cousin who had a document with part of the trail written out. Uncle John was my Great- Great Grandmother's brother.
There is a little wooden shelf that has held the teapot since its return to Connecticut via Uncle John gifting it to my Great Aunt Eunice Lakin of New Haven. She gave the shelf and teapot to my Grandmother, she gave it to my mother and my mother to me when I was a teen. The teapot has a long story.
       I took all these parts and assembled a story, it continues to morph and grow as new facts are revealed but the story is a wonderful memory to pass on to my children or grandchildren so they know the story of the silver teapot. I was very pleased to be drawn to share a story in the National Story Slam at the 2014 National Storytelling Network Conference in Phoenix, Arizona. I told "The Inheritance", it is the story of the teapot I told there.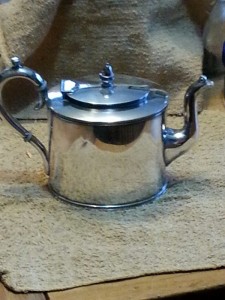 I offer workshops and performances based on family and historical stories.
other blogs with a family stories
https://www.carolynstearnsstoryteller.com/the-birth-of-an-audio-cd/
https://www.carolynstearnsstoryteller.com/focused-on-family-stories-riding-for-uncle-samuel/
https://www.carolynstearnsstoryteller.com/bunny-visits-v-sattui-winery-napa-california/