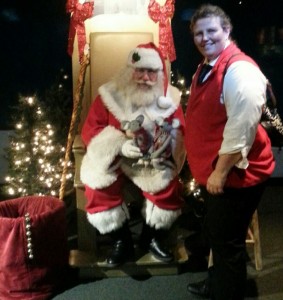 Please, let me introduce you to these Christmas Mice, Alexa and William. I met them a week ago in Mystic CT. They had arrived with Santa and were intent on coming home with me to prepare for the after holiday visit by my Grandchildren. Santa told me the mice would have ideas of things to do and see, that the kids would like and would help me get ready. I agreed they could come and stay, but oh boy! What a tough time I had keeping track of them in a busy Mystic Aquarium.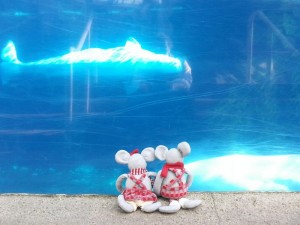 For awhile they were content to sit and watch Juno and the other Beluga whales. Then they were off, I had a hard time keeping up with them!
I caught them at the Ray tank watching these graceful bodies wing by, then they were at the Clown fish tank "Hello Nemo!"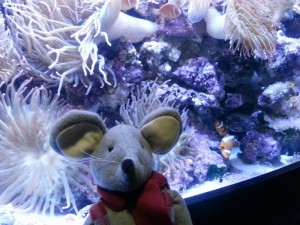 Next minute they were watching a big orange fish glide around another tank. The kids are sure to love a day at Mystic Aquarium.
They were looking at the glass while the squid oozed across it!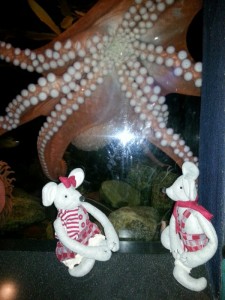 The Jelly Fish were a big hit too!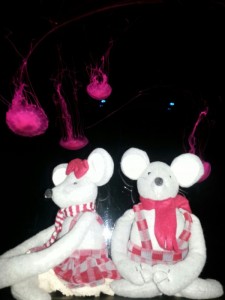 We were off again, in search of the Penguins, who were kind of shy about having their picture taken.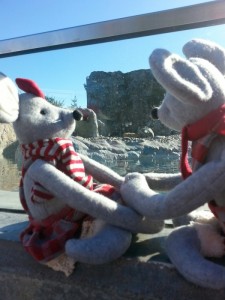 Hi Everybody!!
We looked at more friends from the world's oceans that day . I wonder what else the mice will have me doing?
A day at Mystic Aquarium was certainly fun and will be even more fun when the children arrive! The car ride home was really quiet, a day at Mystic Aquarium and the Washed Ashore exhibit tired a couple of little mice all out!