I am not often interested in the promotional stagings in store aisles, today was different. Well you can't resist stopping to see how the great music was coming out of the empty pizza box! The young man smiled, he had me at his table for a demo. The little box with a couple little wires for connecting to the audio port on electronics was making some big sound. Lap Top, ipad, phone, ipod anything where you might want to project a larger volume. But wait personalize that volume to the setting, just me so stick it to a drink container.
This little piece separates from the main box and you can stick it to almost anything to project sound. I know you are shaking your head , I was skeptical but then the young man said beach this summer and stuck the little pod onto a Styrofoam cooler…..enough sound for the whole beach!
You can play music from a manila folder!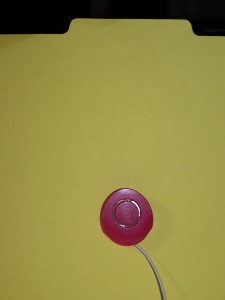 I had to keep experimenting…
oh yea it plays really well on a cough drop bag!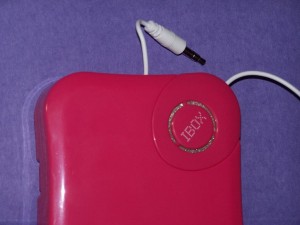 This little gadget can take my sounds from my devices and share everywhere- how fun is that?
I figured you would still be skeptical so I made a video, you can see it working here:
I just love to find new technology to help my storytelling. This little piece will be for work and fun. I'm sounding off for the IBOX I LOVE IT!
IBOX is available in test markets and main stream marketing in June 2012.
My local BJ's will have the promo table up this weekend only!
I was able to get mine at below the price on their website as part of the promotion.
other reviews:
http://carolynstearnsstoryteller.blogspot.com/2011/09/education-in-cubes-not-just-childs-play.html